On Thursday, 5 January 2023 NMC served a notice stating that the dates for online application invitation for the National Eligibility and Cumulative Entrance Test for Postgraduate (NEET-PG) in 2023.
The NEET-PG 2023 exam will be administered on a computer-based platform by the National Board of Examinations in Medical Sciences (NBEMS) on March 5, 2023, at a number of test centers across the nation.
In the coming days, the announcement for the NEET-PG 2023 online application call will be released. In this regard, please regularly check the NBEMS website at https://natboard.edu.in.
And they clearly mentioned it in the circular to: Please disregard the announcement that applications for the NEET-PG 2023 program will be accepted beginning on January 5, 2023 as per different newspapers.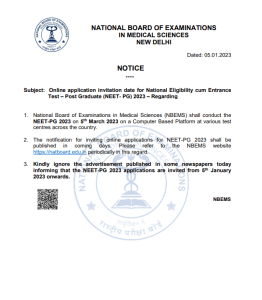 The dates for online application for NEET PG 2023 is still awaited, but the date of examination is confirmed to be 5 March, 2023.
Hence the aspirants are advised to keep practicing the notes. Feel free to contact us for any queries.
Some of our best sellers are: